Walkers Urea 25 Foot Cream 500ml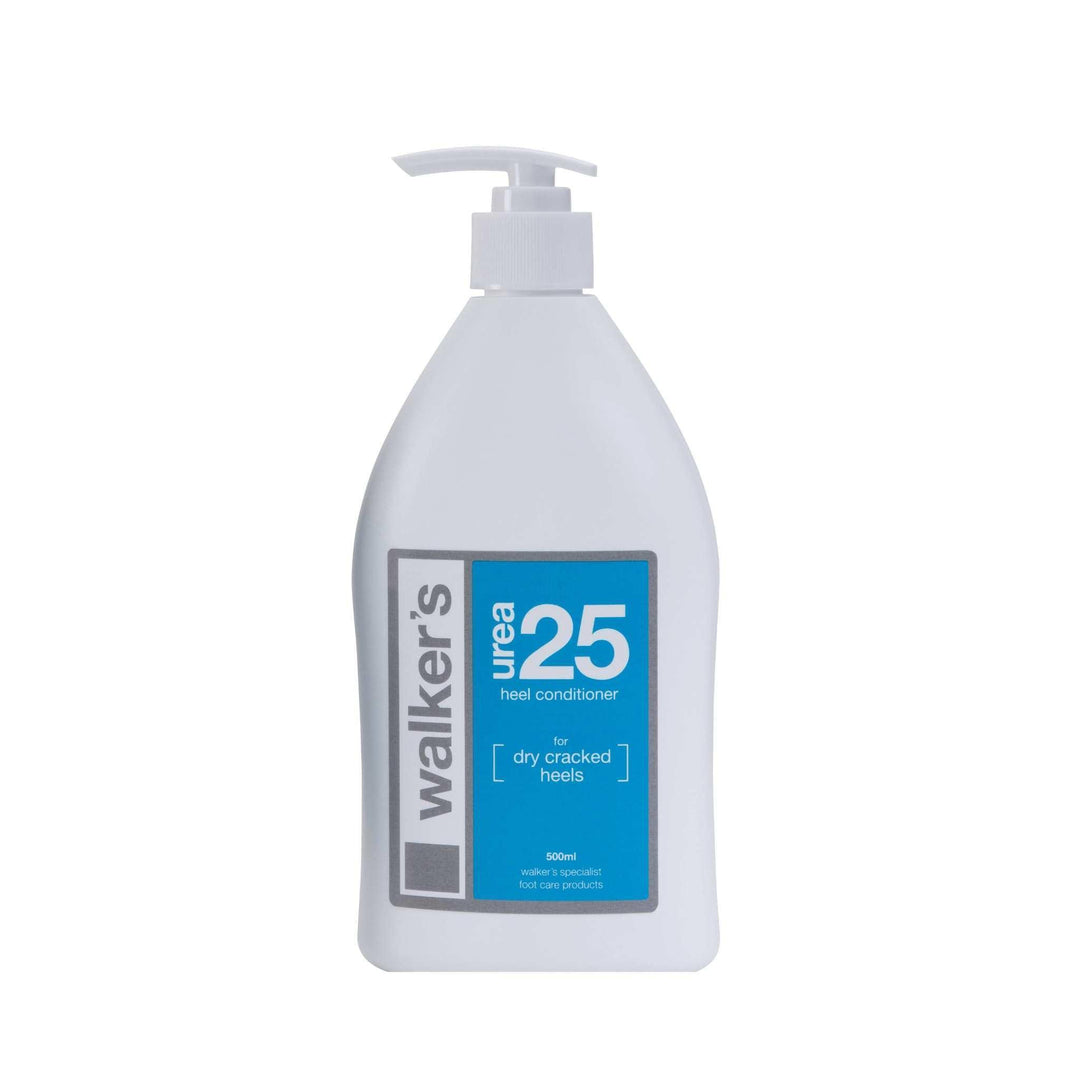 Walkers Urea 25 Foot Cream - Made in Australia

Walker's Urea 25 Cream is a specialised foot cream that is formulated with 25% urea, a natural compound that has been proven to effectively moisturise and nourish dry and cracked skin on the feet. This cream is designed to provide intense hydration to the skin, helping to soften and smooth rough, dry, and calloused areas, leaving your feet feeling soft and supple.
Walker's Urea 25 Cream is particularly beneficial for individuals with dry or sensitive skin, or those who suffer from conditions such as diabetes that can cause dry feet and cracked heels. Urea is known for its powerful moisturising properties, as it helps to attract and retain moisture, promoting a healthy moisture balance in the skin.
Regular use of Walker's Urea 25 Cream can help to soothe and relieve dryness, cracked heels, and discomfort associated with dry and cracked feet. It can also help to improve the overall texture and appearance of the skin on the feet, making them look and feel healthier.
To use Walker's Urea 25 Cream, simply apply a small amount to clean, dry heels and massage gently into dry or calloused areas of the heels. For best results, it is recommended to use the cream regularly, especially after bathing or exfoliating, to lock in moisture and maintain soft and smooth feet.
With its high concentration of urea and nourishing properties, Walker's Urea 25 Cream is a reliable and effective solution for dry and cracked feet, providing intense hydration and promoting healthy, well-nourished skin. Invest in the care of your feet with Walker's Urea 25 Cream and experience the comfort of soft, smooth, and moisturised feet.
More On The Amazing Properties of Urea Cream
Urea cream is the top skin remedy for a myriad of skin conditions. Urea is a compound naturally found in the human body and exists in every HEALTHY cell.
The urea in the highly therapeutic urea cream is a white and odourless powder produced from salt compounds and DOES NOT come from any animals or humans.
The body uses this type of urea in the same way as the urea naturally found in the skin. Scientists call it a true "humectant" because it is an important component of the body's natural moisturising factor. Unmatched for its hydrating properties, urea can increase water content to the skin to a level of 97.8%! This is far more than any other natural substance.
Found in the surface layer of the skin (epidermis), urea plays a vital role in maintaining the skin's moisture balance and suppleness of the skin. Urea is non-toxic, non-allergenic, colourless and odourless.
The 25% urea based cream is recommended for use on the heels only.
See Below for some of our most frequently asked questions about Walkers Urea 25 cream or check out our blog posts for further information:
Should You Use Walkers 15% Or 25% Urea Foot Cream
How long does shipping take?
We process orders daily, and in most cases, dispatch orders on the same day we receive them. All orders are sent via Australia Post.
What are the ingredients of Walkers Urea 25 Cream?:
Urea, mineral Oil, stearic acid, glycerine, propylene glycol, water, cetyl stearyl alchol, triethanolomine, EDTA, hydroxymethylglycinate
Instructions on using the Walkers Urea 25 cream for dry skin:
To achieve optimal results, consistency is key when using any cream for dry skin. Follow these steps:
Begin by applying the cream to your heels 1 to 2 times a day initially.
As you start to notice that your skin condition improves, reduce the frequency to once daily.
For those with significantly dry and cracked skin around the heel, it's advisable to use a pumice stone or foot file to reduce the roughness and dry skin before applying the cream. This will also allow the cream to better absorb into the skin.
As always regular use is essential to help you effectively address dry and cracked heels.
Here are some essential precautions to keep in mind when using Walker's Urea Cream:
Avoid contact with eyes. If the cream comes into contact with your eyes, rinse thoroughly with water.
After application, remember to wash your hands to prevent accidental contact with sensitive areas.
Do not use it on open skin or wounds.
Do not use the cream between your toes, as it may not dry out effectively and could lead to maceration or excess moisture buildup.
This product is intended for external use only. Do not ingest or use it internally.
Always read and adhere to the instructions provided on the product label.
If your symptoms persist or worsen or if irritation occurs stop using immediately and it is advisable to consult your healthcare professional for further guidance and evaluation.
For External Use Only. Always read the label and follow the directions for use. If symptoms persist, or irritation occurs discontinue use and talk to your healthcare professional.
Walkers Urea 25 Foot Cream 500ml
Good quality cream for callused heals.
Good quality cream for callused heals.
Walkers Urea 25 Foot Cream
This would have to be the best foot cream. Leaves my feet smooth and grease free. Love it.
Great Foot Cream
Was using a foot cream with 10% urea but this product is better and not more expensive.
Foot cream
Fantastic product it really makes my feet really soft, wouldn't use any other product.